WARNING: FOOD POST!
This past Saturday, Kaylee and I spent the day with my mom baking Halloween cookies. We had so much fun! At first Kaylee didn't know quite what to think about the whole process, but by the next-to-last dough roll-out, Kaylee had the rolling pen and was doing it all by herself! I have a video to prove it, but I can't get it to post on here for some reason so photos will have to do.
Click on us to make us BIGGER!!!



And yes, Kaylee is sitting on the island. We didn't have a stool the right height for her and I sure wasn't going to hold her the whole time ;-)! She was (as you can tell) covered from head to toe in powdered sugar but had a blast! Making Halloween cookies, you have a very limited selection of colored icing you can use, so sorry if the end product is a little boring. We also only had 3 cookie cutters. Correction: we have more (we think) but looked and looked and couldn't find them to save our lives. So again, sorry if the picture's a bit boring.  Christmas will be more fun although Kaylee won't be able to help the whole time. When my mom and I make Christmas cookies, we usually take up the whole day. We make around 3-4 dozen cookie-cutter sugar cookies and decorate them all. Then we have a cookie gun (It literally looks like a funky gun, you put the design of the cookie you want [flower, leaf] in the end, put the dough in the other end, lift up on the handle, press back down and you have a perfectly shaped cookie a bit bigger than a half dollar) which we'll make another couple of dozen cookies from. We'll use the flower shape a lot and put a dab of jelly in the middle before baking them. We make at least two dozen of those because between me and my dad, they get eaten SOOOOOO fast. Just last year, we started making chocolate covered pretzels INSERT PHOTO and this year I want to try chocolate covered pretzel balls. Those will by fun little eats. So yeah, those are just the cookies. We also make brownies and fudge. And yes, all in one day. This year I'll take a picture of the finished table so you can see all the goodies! We really like the holidays, can you tell? We don't have a typical Christmas dinner either. We have out dinner on Christmas Eve, and it's more of a buffet. We have TONZ of stuff like Sausage Balls, Pigs in a Blanket, 4 or 5 different kinds of chips and dip and the best Christmas punch you will ever taste. I love it so much we had it at my wedding ;-)
Speaking of food for holidays, take a look at this: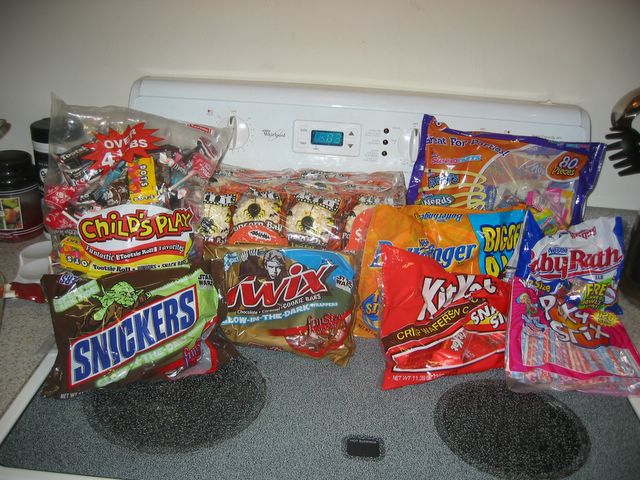 No, It's Not On Fire!



This is a meal in a box. Do you see the steam? Inside the box, you will find a white styrofoam tray with a black pad in the bottom, a tray of food with a plastic seal over the top, a tube of salt water, a pack with a napkin, fork, knife, salt and pepper. You pour the water over the black pad, put the food container on top of it, close it all back up in the box and the water reacts to the stuff on the pad. You hear it popping and sizzling, steam comes out of the box and after 5 minutes, you've got a piping hot meal. Mind you, I didn't like it very well, but the cooking process if awesome!
Ok this post is WAY too long! :-) And for future reference, I'm SO jealous of those of you who get to go to the Sheep & Wool Festival. SO. JEALOUS. Bring me back something!